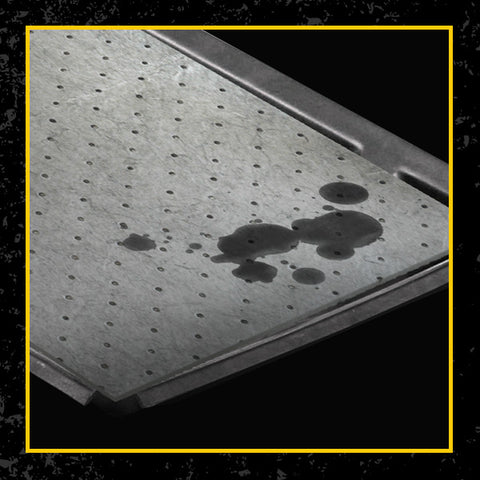 DripPansUSA Interlocking Drip Pans and Oil Absorbent Pads offer consumers a complete system for capturing and disposing of messy oil and other fluid drips. They are great product for absorbing and retaining oil, coolants, transmission fluid, hydraulic fluids, and water.
Available in two interlocking pan sizes:
18" x 47.5" and 24" x 30" (both 1.25" deep and .125" thick) to fit your individual coverage needs, and join together seamlessly without any gaps. The interlocking design allows users to link multiple drip pans along their edges, neatly protecting floors in an infinite arrangement of shapes and sizes. Please note that same size and different size pans both link together effortlessly.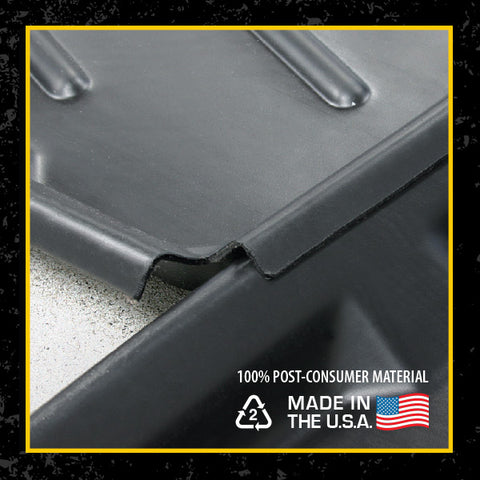 Our Drip Pans are durable, lightweight and sturdy; able to withstand the toughest environments. Made of thermo-formed HDPE that is 100% post-consumer material – the equivalent of 24 milk jugs.

Each Drip Pan comes with one 16" x 48" perforated Oil Absorbent Pad that can be divided every 12" and used to line the Drip Pan, making clean-up easy.
DripPansUSA Drip Pans and Oil Absorbent Pads are made in the USA. Order yours today!